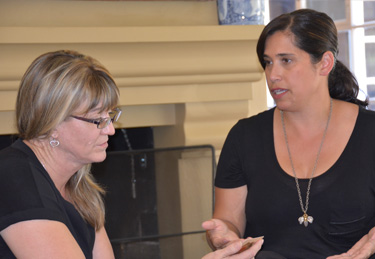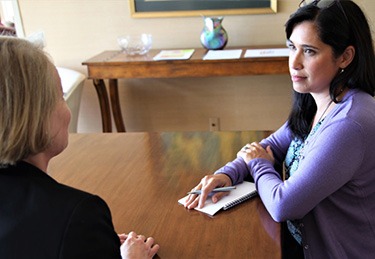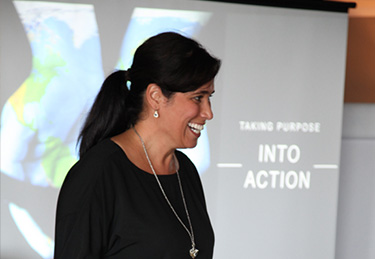 "Be the CHANGE you wish to see in the WORLD" — Gandhi
VITA Leadership was created by Mariaelena Welch, PCC, CEQC, BSME, with the goal of inspiring and guiding people and their organizations to be their most effective and vital selves in both their professional and personal lives. She is especially passionate about helping people "lean in" to their emotions, and the emotions of others, as a strategic resource to be a more effective leader both professionally and personally.
Mariaelena supports individuals, teams, and organizations in achieving their goals to grow, transform, and make a purposeful impact. She helps her clients become more effective by improving their relationships, growing their influence, enhancing their communication, and optimize their problem solving and decision making.
She marries her years of leadership and coaching experience with evidence-based methods and advanced training in emotional intelligence (EQ) to support those experiencing significant change, managing conflict, and navigating personal and team dynamics.
VITA Leadership also engages other skilled coaches and consultants as needed for larger initiatives.
As a Preferred Partner with Six Seconds, the largest global EQ network, VITA Leadership makes use of their world-class assessments, tools, techniques, and methodology to provide deep insight and ignite sustainable behavior change and measurably growth for leaders, teams, and organizations.
We went from going around in circles, and being stuck, to having a clear vision and the ability to move forward.
Rebecca R.
Founding Partner, Riskin Partners
individual and group COACHING
Down to earth. Direct communication infused with kindness. Insightful. Creative. Curious. Supportive when necessary. Tough when required. Humor when essential. Mariaelena brings a practical and actionable approach to support her client's progress towards the achievement of their goals and vision for the future.
Often when a client is setting a goal, making a decision, or navigating a big change, emotions play a larger part in achieving or derailing sustainable progress than they realize. Emotions can be a positive source of direction and motivational energy or they can undermine the best of intentions. Therefore, Mariaelena leverages her expertise and certifications in Emotional Intelligence (EQ) to support her clients' ability to be a more successful leader and change maker.
Mariaelena works 1-on-1 with individuals or teams through ongoing sessions that may occur in person, via web platforms, or on the phone. Coaching engagements typically range 3 – 6 months in duration, meeting on a weekly, bi-weekly, or monthly basis based on the goals of the client.
Want to grow?
Let's chat about your individual, team, or organization's goals, needs, and the vision you have for yourself or your business.

Not clear on this yet?
Not to worry, this is part of the work.
Mariaelena's personality and energy brought the material to life. Her depth of experience was evident in the solutions she was able to provide to everyday real-life project management challenges.
Diane W.
COO, Santa Barbara Natural History Museum
Team and organization tRAINING
There are many points of view on leadership training development, but Emotional Intelligence (EQ) is at the core – the foundation from which to build upon. Most people already intuitively know this to be true through our experiences with exceptional leaders. This truth become evident with both with exceptionally great leaders and unfortunately, exceptionally poor leaders. It is from this perspective that VITA Leadership develops and delivers highly interactive, application and action focused workshops for teams and organizations wishing to enhance their emotional intelligence and leadership skills to help them be more effective, mindful, and intentional.
Workshops are designed in collaboration with the client to meet their specific needs. This is achieved through experiential, action learning with direct application to the client's setting. The process is always one of creating new awareness and paring this with an actionable path forward — while having fun along the way. Mariaelena invites the opportunity to incorporate emotional intelligence skills and practices into a client's pre-existing leadership, communication, and management training.
Workshop topics include, but are not solely limited to Emotional Intelligence (EQ) skill development, coaching skills, building and leading high performance teams, group dynamics, dealing with difficult people and challenging relationships, crucial conversations, effective communication, navigating conflict, leading change, performance management and delivering feedback, customer service, negotiation, critical thinking, decision making, and problem solving.
Investing in your team?
Let's connect and discuss the opportunity to grow yourself and your organization.
Not sure where to start?
Not to worry, figuring this out is part of the fun.
Part teacher, part visionary, part therapist, she nudges me beyond my own myopic view and gently guides me to a more strategic, successful vision for my business.
Diane D.M.
President, DDM Metering Systems, Inc.
Organization development CONSULTING
In some instances, Coaching or Training just isn't enough. This is where Consulting emerges. The best Consulting often relies on strong coaching and training skills. However, sometimes there is a problem that just needs help solving. Sometimes a fresh and unbiased perspective is required. Sometimes there is a need for greater involvement and collaboration. Sometimes there is a need to confirm whether or not you are on the right track. And sometimes there is the need to just not go it alone.
Consulting with a co-creative and empowered coaching process and mindset.  You likely don't really need someone telling you what to do – you need someone who can partner and collaborate with you.
Could you use a trusted advisor?
Let's discuss the gaps in your support network and resources.

Not sure when you'll need help?
Not to worry, let's discuss different paths of support.
"Inspiring" is the word that comes to mind when I think about Mariaelena. She has enthusiasm and passion for the work she does and her wealth of knowledge is tremendous and invaluable.
Mary Beth L.
Founder + Designer [IN]LARKIN
PUBLIC SPEAKING
Entertaining. Engaging. Relatable. Funny. Often irreverent. Self-deprecating. Storyteller.
If you read the 'About' page on this website, it reads as though Mariaelena has led a storied life and career. Maybe it even reads a little overly self-promoting and lacking a healthy serving of humble pie. Likely true on some level. Yet, truth be told, she avoided a website for years for that very reason.
Further, truth be told, it also hasn't been a straight path. There have been bumps in the road.  A few ditches too. Many lessons learned the hard way. A couple crushing losses. And a good share of success too.
Success built on grit, grace, and gratitude.
Planning an event?
Let connect and discuss your audience and what you have in mind.
Not sure of a theme or direction?
Not to worry, let's brainstorm together.